UK Casino Funding Methods
Online gambling has really taken off in the UK, and there are ever more methods of transferring money into and out of accounts. For your convenience, we've outlined some of the available banking methods below.
Traditional Casino Funding Methods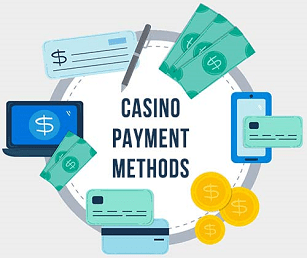 Credit and debit cards are accepted just about everywhere, as you might expect given how many people have them. Visa and MasterCard are available at every site you'll visit, and come with convenience, speed, and facility to both withdraw and deposit, making them very popular options.
There may also be the option to use both cheques and eCheques. The latter is simply an online version of the traditional cheque, although not all banks offer this facility and not all casinos accept it. Obviously, if the cheque option is available it will take a little time to be delivered.
However, if you're shifting large sums (say £5,000 rather than £100) then you should give the bank wire a look. At first glance, it's a litany of downsides. Processing can take days, you'll probably need to inform your bank ahead of time, and there's a reasonably large fee attached. But the upside is the very high degree of security, which becomes the priority when you're shifting large sums about. For high rollers, it's the most popular option.
E-wallet Casino Funding
E-wallets are used for lots of things in everyday life, from shopping to getting paid. Casinos also usually accept e-wallets, with the most popular being PayPal, Neteller, and Skrill. The e-wallet acts as a middle stage, standing between a gambling site and bank account. They're quick and easy to use, and some come with associated cards. Small fees may apply. People wary of sharing info (although it should be stressed casinos usually have robust security) often like this banking method.
Virtual Cards
A popular approach for those especially wary of sharing any details can be virtual cards. The most common in the UK is the Paysafecard, which enables people to pre-fund a certain amount of money and then use the card to deposit that in a casino account. The virtual credit card Entropay was another widely available option, but ceased providing its services in July 2019.
Bitcoin
As far as cryptocurrency goes, aside from a few specialty casinos, the only show in town for banking is the most popular of the new currencies: bitcoin. This is a bit of a different choice to the other banking methods mentioned as it's far less commonly accepted (although increasing numbers of sites are listing it). Most funding methods operate by shifting traditional currencies through different means, whereas bitcoin is a different kind of currency, one that's a lot more volatile than traditional ones. However, the anonymity of the cryptocurrency also means that the security is very high.
Limitations
With all these methods there are attached restrictions. These can be as simple as an upper limit on deposits, or geographical restrictions that mean a certain e-wallet doesn't work in a given country. Importantly, some methods only work for deposits, or withdrawals, but not both.
There are plenty of casino funding
options for UK players
to utilize. Matters such as security, speed, and convenience should be considered before choosing which one you prefer, and remember that not every banking option is available at every site.